Gingerbred Farms
Presents...
CH Tabatha's Gingerbred Cutter JH, CD, CGC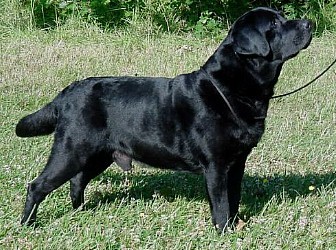 Cutter has had an exceptional career as a versatile Labrador Retriever in the show, obedience and field arenas.
Cutter recently won Best of Breed at the Winnebago LRC Specialty and MVLRC Specialty. Cutter has been shown by Helen Eitel of Goldsboro, MD since Cutter was 9 months old. Also Ellen Cottingham showed Cutter for 1 year. Cutter is owned by Christine Tye of Sonoma, California.
Cutter was bred by Carol Heidl of Tabatha's Labradors of Sandusky, Ohio. Cutter's dam is CH Tabatha's Inspiration (B). Cutter's sire is CH Banner's Muskelunge (C) Buckey & BUCKSTAND of Muskelunge Labradors.
Vote for me in Top 50 Labradors Retrievers
---
Just the Facts!
Cutter first won the Golden Gate LRC under Helen Steven and won the supported show the next day at Del Valle. Cutter is listed in Dog News as the #1 Labrador Retriever in Breed. Helen Eitel shows Cutter and additionally showed him at the National in Washington where he went 1st in Sweepstakes in his class (under breeder judge Diane Pilbin. ) and 2nd in regular class.
Cutter FINISHED HIS CHAMPIONSHIP AT 16 months!!! Was #1 labrador Retriever in 1996 in BOTH Breed and all systems. That year he went on to become the ProPlan Chosen by Champion Labrador Retriever in their print campaign.
---
" What Is A Title Really?"
Not just a brag, not just a stepping stone to a higher Title, not just
an adjunct to competitive scores.
A Title is a tribute to the dog that bears it, a way to honor the
dog, an ultimate memorial. It will remain in the record and in the
memory for about as long as anything in this world can remain. Few
humans will do as well or better in that regard. And though the dog
himself doesn't know or care that his achievements have been
noted, a Title says many things in the world of humans, where such things
count.
A Title says your dog was intelligent, and adaptable, and
good-natured. It says that your dog loved you enough to do the things
that please you, however crazy they may have sometimes seemed. And a Title says that
you loved your dog, that you loved to spend time with him because he
was a good dog, and that you believed in him enough to give him yet
another chance when he failed, and that in the end your faith was
justified.
A Title proves that your dog inspired you to have the special
relationship enjoyed by so few; that in a world of disposable creatures, this dog with a
Title was greatly loved, and loved greatly in return. And when that
dear short life is over, the Title remains as a memorial of the finest
kind, the best you can give to a deserving friend, volumes of praise
in one small set of initials before or after the name.
A Title is nothing less than love and respect, given and received
permanently.
Author unknown
---
Photos:
A Cutter bitch Gingerbred Black Rock Belize
Cutter finished his JH with style: cutterjh
Cutter at MVLRC: bobcut
See Cutter in the Labrador Museum The Labrador Museum
Cutter's offspring: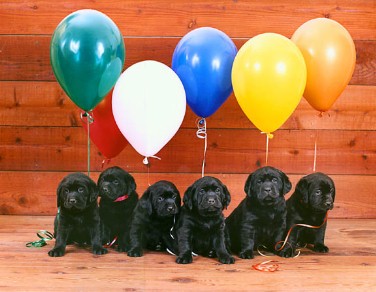 Cutter is OFA Good, Elbows Clear, and CERF'd yearly.
---
For more information about Cutter for stud or his upcoming litters, contact Christine Tye christinetye@vom.com.
Updated 3/18/03 at 6:35 p.m.