Whelped: May 9, 2001
Bubbles X Bravo
Sarah Dean's Black Rock Brigham "briggs77" at CrippleCreek Labs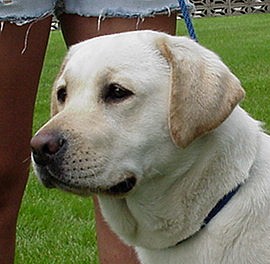 Blossom at 2 years old.
Carol Connor & Black Rock Orange Blossom75 at Sylvan Meadows Labs
Betty Baker & Black Rock Liberty Creek Morgan CGC
Morgan713: Black Rock Morgan at libertycreeklabs
9/2, Blackrock Hoosier M'ma Tinbeak - 27 pounds Fern is incredibly smart, loving and playful. She is a welcome addition to our family and the vet was impressed with her calm demeanor and attentive interest in what he was doing. She has the darkest pigment I have ever seen in a yellow and super intelligent expressions. We just love her so. 8/21, Fern has settled in very well and is a absolute doll. She is VERY smart and sweet. She is in love with Emmett and often stands on top of him chewing on his ear. He lets her. She was digging in a hole with water in this picture fernsit. She looks like a mastiff! Sarah adores her. Fern is put together so well that her movement is like fluid water flowing. Take care. Jane
Jane Hunter's daughter - Sarah with Fern7/8, Fern has settled in just fine and is an excellent car dog. She never complained, pee and pooped on command, almost, and just seemed to enjoy herself. Scott loves her and said she is a keeper because she fell asleep on his feet while he stood at the kitchen sink. Thanks again. Jane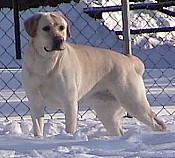 4/29/03
Fern produced 7 beautiful puppies. All yellow, 6 girls and 1 boy. All are doing well and looking good.
2/24/03 Fern's hips (prelims) came back good. She and Emmett have been bred. They look nice together. With their happy personalities, they should make nice amiable pups. Hope all is well. We're digging out from getting snow dumped on us. We had about 18-24 inches on the ground, now it is melting and freezing, melting and freezing. Jane Hunter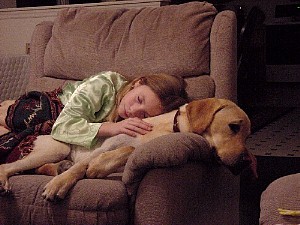 9/17: Just thought we'd let you know Dakota is doing great! He really enjoys trips to the park to hike in the woods and trips to the pet store to pick out new toys. He has made lots of new human and canine friends and everyone thinks he's gorgeous. We are really looking forward to starting puppy manners class the first of October. He really is a beautiful and intelligent boy. He's very sensitive as well. With our country's recent tragedy he seems very in tune to our sadness. He will come lay his head on my lap gazing up into my eyes and give his gentle kisses when I am particularly down. We are so thankful to have him in our lives. Dakota 08 '00: I'm doing just great with my new family! I'm learning not to potty in the house and I'm learning lots of requests with my training. When asked, I can "sit," "down," "stand," "shake," "off," "take it," "fetch," and I'm doing well walking on a lead. My family seems so happy when I do these things and they even give me treats when I do them well. I have played with some of the neighbor dogs and I even got to go to a "neighborhood dog party" last night. What a blast! I love to go around the neighborhood and play with the big dogs! They are so nice to me. I'll keep you updated on my progress. Love you! Dakota Ted, Elaine & Danielle Gladeau
2/16/03 Dakota is just loving this snow storm! We went for a long walk yesterday and I could hardly keep up with him. He was bounding from snowdrift to snowdrift with endless energy. And of course he had to greet everyone that was out shoveling their driveways and sidewalks. He is also enjoying finding all the buried treasures as he digs his toys out of the snow. Elaine Gladeau Miamisburg, Ohio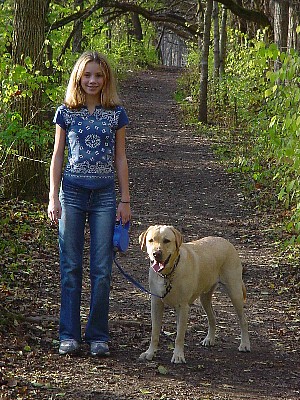 10/26/03 Hi Dale and Linda! Just thought I'd send you a new picture of Dakota. He's almost 2 1/2 years old now and is still a big huggable lovable puppy. He is such a good boy. Of course he still acts like a big goof around other dogs. Especially other Labbies. He gets sooooo excited. Maybe I'll be able to convince my husband we need to add another one to our family. Bye for now. Elaine Gladeau
I'm just a proud parent that loves to show off her son. Isn't he handsome! I'm still working on my husband to get him a canine sister.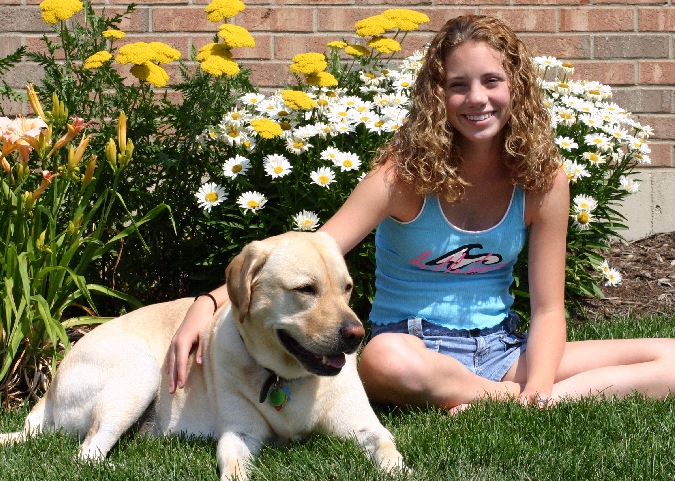 7/9/05 I was just checking out your website and thought I'd say hello! Dakota is still doing fantastic (Bubbles and Bravo May 9, 2001). He's grown up to be a handsome and lovable boy. He's so social and everyone loves him. Everyone gets a kick out of the way he has to carry the umbrella when we walk and it looks like rain, and how when he sees a dog approaching when we walk he just lays down and waits for them to get close enought that he can jump up and do the meet and greet thing. I've attached a few pictures. Thanks again for such a wonderful dog. He's been the perfect addition to our family. Elaine GladeauElaine Gladeau
Abby is just precious. It has been so wonderful having her around. Tim sits on the floor and Abby just climbs up into his lap and falls asleep. She is truly a dog who needs to snuggle. She had been learning voice and hand commands and is doing very well. She enjoys riding in the car and going to my mothers to run and play (Mom is on a golf course). She has learned to stay away from the golfers. We have been truly blessed with the best puppy. We take her everywhere and she is learning her manners, and everyone just comments on how beautiful she is. I don't think we could say thank you enough. Take care. We will be sending photos soon. Ed & Kelly Weirzbicki
Mark Stolkin & sons with Blake
Kathryn & Michael O'Donnell: Black Rock Finnbarre
9/14, With all the recent sadness in the world, I can tell you that it is such a joy to come home to Finnbarre. She has such a wonderful temperament that everyone in our neighborhood just adores her and we have frequent visitors who come just to see her. We can not walk down the street or in the park without people commenting on what a beautiful dog she is. On top of all that, she is incredibly bright. She was house trained within about two to three weeks at home with us and has easily learned to sit, come, stay, and give her paw. Though, I must admit that she is quite mischievous at times. In fact, she loves nothing more then plucking the tops off of the flowers in my garden. Then of course, she spits them out. The picture is from a recent vacation where she was able to play by a quiet country lake and discover how much she loves water. Anyway, I hope all is as well as it can be with you. I'll try to send more pictures soon, as she is growing so fast. Thanks for everything. We could not be happier with Finnbarre!
1/17/03 I hope you had a wonderful holiday season and this note finds you well. I just wanted to check in and let you know how Finnbarre is doing. She has grown into quite a beautiful dog and just about the best companion ever. Michael and I had a baby in May and Finnbarre has been terrific. She is curious, gentle and very attentive. Our son, Deaglan (sounds like dek-lin) has not had a single bath where Finnbarre was not right there watching every move and enjoying every splash. When Deaglan would wake in the middle of the night, Finnbarre was right there with me. She never fails to bring a smile to Deaglan's face. They are going to be great friends. Finnbarre's personality is incredibly friendly and lively. I dare say she is a little bit spoiled. She enjoys daily belly rubs and thrives on attention. She loves to swim and is a big hit at the lake. The more timewe spend out at our family's farm in Michigan, the more Finnbarre loves to hang out with the horses. Though it makes me nervous to see her out there with those big horses, they all seem to enjoy her company as well. I have attached a picture of Deaglan and Finnbarre.
Thanks again for such wonderful dog. We love her very much. regards, Kathryn Murphy O'Donnell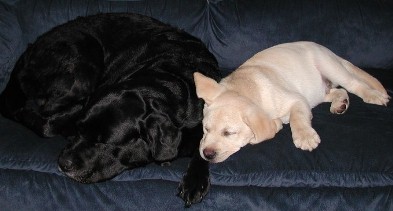 12/14/06 Hi Dale! It's hard to believe that 5 years have already passed since we first picked up our little Kody from you (Bubbles x Bravo litter). During that time he has grown from a 20-lb. puppy to an 80-lb. puppy. He hasnít slowed down a bit! He still loves to play 24/7 and will retrieve any toy as long as you keep throwing it for him. Usually our arms tire out long before he does. He is the perfect definition of "retriever". He has the most adorable personality and everyone that meets him falls in love immediately. He is Jay's wrestling pal, my running buddy, and my cooking partner (waiting for any food that might fall). His all-time favorite thing to do, though, is to go to the local forest preserve and run around for hours. On our most recent trip he got so dirty from playing in the creek, he ended up looking more like a black lab than a yellow lab! Since Kody joined our family, we have moved into a house on a half an acre of land near Wisconsin. Kody and our black lab, Kimball, both love it. I've attached a picture of Kody enjoying the backyard, along with a few other pictures (see descriptions below). Kody is the fifth dog that I have owned, and I have never had such a great all-purpose dog. Because of what a wonderful dog he is, we were curious as to when Bravo would be breeding next. We think that one of Kody's brothers would be the perfect addition to our family. Thanks! Marissa and Jason.
Taffy: Brian & Karen Bissonette: After playing around with names we finally agreed we both liked Taffy. She had a very good first day and is doing very well with housebreaking with only 1 accident in which I was able to catch her and get her our side. She is very adorable and obviously very smart. She is already starting to understand sit, and no bite. We are having a ball with her and I am so glad we called in time to get her. You have a beautiful home and we enjoyed meeting you. Thanks so much, Karen - No photo available Hello Dale and Linda, I am the owner of Taffy of Black Rock. She has been the most wonderful dog and just celebrated her 2 nd birthday. I am interested in getting another yellow lab as a companion for me and Taffy. I love Taffy so much and I can't tell you what a good dog she is. Thanks so much , Karen Bissonette
Black Rock "Holly" Hunter: No photo available
10/13/02 Holly absolutely adores the horses and she has learned to lead them. I had a picture of that but they got deleted so when i take more, and i will be sure to send you one. When my sister comes home from college to visit you can tell Holly has missed her. She never leaves Audreas side. So i just wanted to thank you again for having the opportunity to get her. She has really become a member of the house. Bailey
11/25/01 Hi, my family received a puppy from the Bravo and Bubbles litter. Her name is Black Rock Holly Hunter. She is doing great. I have taught her many tricks like sit, shake, crawl, roll over, high five, lay, to play dead, and Iím working on speak. She is a great addition to our family and we all love her. Holly enjoys going on trail rides with the horses. We took her to one of my horse shows within the first month we had her and she proved to be a great "horse show dog." She was excellent at the parade we took her to the first day we got her too. Everyone comments on how beautiful she has gotten, hopefully we will get pictures to you soon. Audrea, my older sister took some of her senior pictures with her and they turned out really good. Bailey Oakley.
Updated 12/14/06 at 6:19 p.m.