Black Rock Labradors
Presents
CH Sylvan Meadows Black Rock Bravo WCI, CGC, WC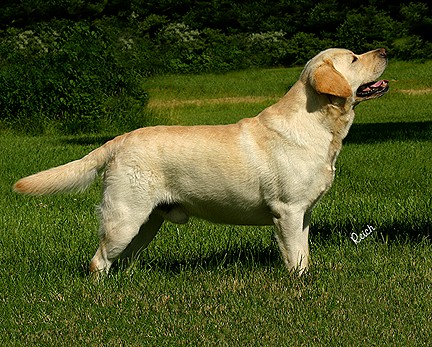 OFA "Excellent", Elbows Normal, OFA Heart Cleared, Optigen Normal/Clear, Eyes cleared.Full Dentition, Normal Bite
BRAVO - CLEARANCES and CERTIFICATES
Bravo movie - July 2005, CHBravoWD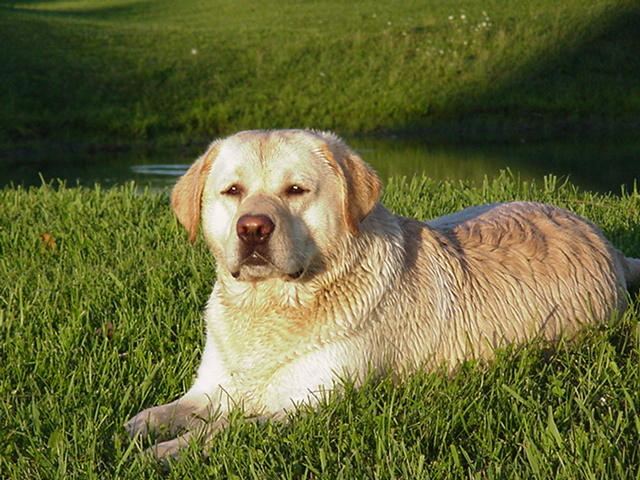 Bravo passed onto the Rainbow Bridge in May 2013. He one one in a million!
Bravo is an outstanding stud dog that comes from pure English conformation Champion Sire & Dam with versatility for all purposes.
Bravo finished his Championship (CHBravoWD) with 16 points and 3 major wins. Bravo finished his AKC Conformation Championship at 22 months old. Bravo has a happy spirit and a curious attitude with no fear! Bravo moves effortlessly and displays his wonderful expression.
Bravo is producing outstanding pups with outstanding temperaments, heads, coat, nice bone, flawless movement, attitude and drive. Bravo continues to produce pointed and Champion offspring.
Bravo is truly an "All Purpose" Labrador Retriever for conformation, field, service, obedience and a lovable companion.
Highlights and Pedigree:
Dam: CH Sylvan Meadows Sassy "Cassie"CGC, WC whelped 11/20/94 (Yellow) (Owned/bred by Carol Connor - Sylvan Meadows Labradors& Michael Whitlock - Garden Gait Labs.) Cassie finished her AKC Championship with 17 points and 3 major wins.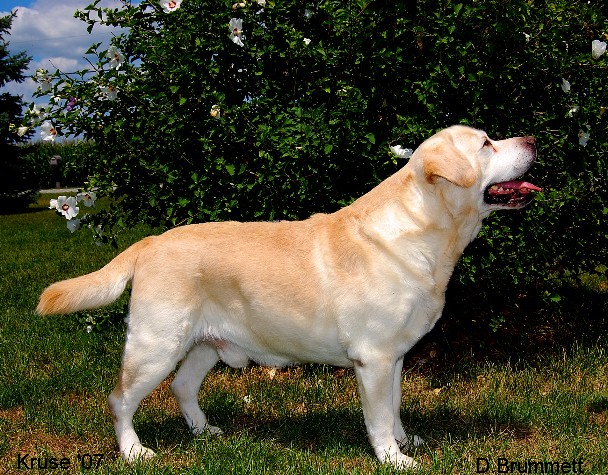 Kruse (Bravo's father) at 11.5 yrs old
Sire: CH Hunt Club's Sho-N-Tail Risky Business "Kruse" whelped 12/5/96 (Yellow) Owned by Susan Burton - Indianapolis, IN. Kruse finished his AKC Championship with 19 points and 3 major wins.
CH SYLVAN MEADOWS BLACK ROCK BRAVO WCI, CGC, WC SN709238/01 YLW Whelped on January 14, 2000
Sire
CH Hunt Club Sho N Tail Risky Business CGC "Kruse" kruse SN409221/04 5-98 OFA27G YLW

Sire
CH Tabatha's Drifter at Dickendall JH (Retired) SN 936340/04 4-93 OFA28G OFEL28 CERF91 BLK DNA Profile #V34550
Sire
CH Dickendall Arnold SF639713 4-96 OFA25G Cerf125 BLK DNA Profile #V33655
Dam
CH Tabatha's Valleywood Decoy Decoy's webpage SE060992 3-87 OFA24 YLW
Dam
Hunt Club Sealed With A Kiss SN024414/08 10-95 OFA27G OFEL27 BLK
Sire
CH Scartho Frost SM979983/01 11-92 OFA20G BLK (UKG)
Dam
CH Hennings Mill Sommit Ruff Gem SF95718 4-92 OFA29G YLW
Dam
CH Sylvan Meadows Sassy "Cassie" cassiebob CGC, WC SN211221/04 12-97 YLW
Sire
CH Hunt Club Hennings Mill Gino NM981467/09 12-93 OFA25G OFEL25 YLW
Sire
CH Hennings Mill Caruso SF018320 12-90 BLK
Dam
Hennings Mill's Country Charm SF446735 11-92 OFA32G YLW
Dam
Sylvan Meadows Coalchelsino SM802083/01 5-93 BLK
Sire
CH Broyhill Hennings Casino SD632473 8-83 OFA25 YLW
Dam
Analore Caolby Lynn SF136033 1-91 OFA30G BLK
This pedigree page was built for free at SitStay.com
Bravo at 9 yrs searching for birds...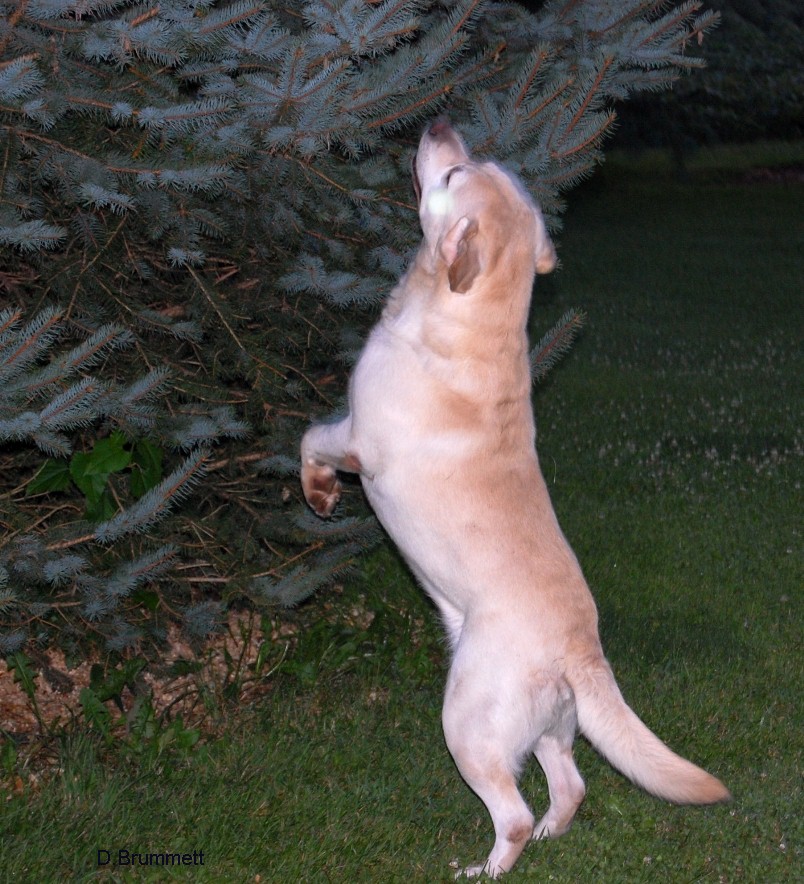 CH SYLVAN MEADOWS BLACKROCK BRAVO WCI, CGC, WC - Kids
CH SYLVAN MEADOWS BLACKROCK BRAVO WCI, CGC, WC - Grand Kids
CH SYLVAN MEADOWS BLACKROCK BRAVO WCI, CGC, WC - Great Grand Kids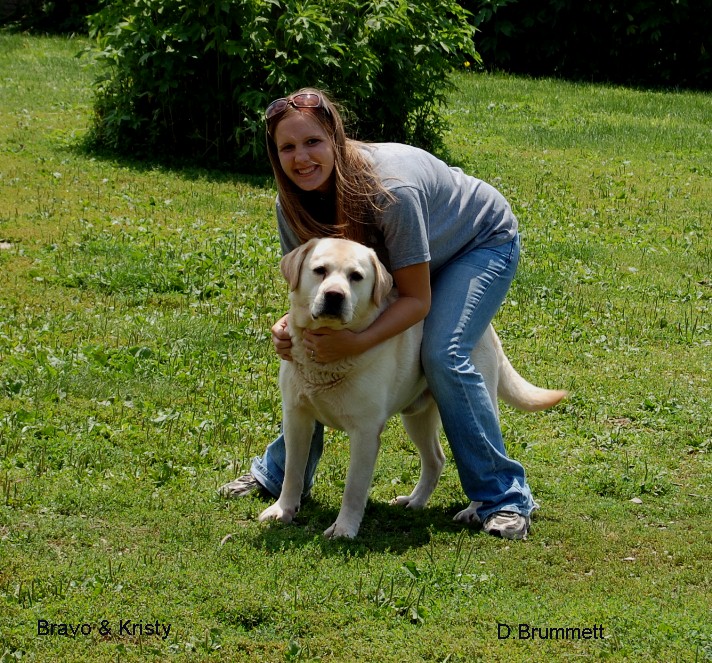 CH SYLVAN MEADOWS BLACKROCK BRAVO WCI, CGC, WC - Show
In the field: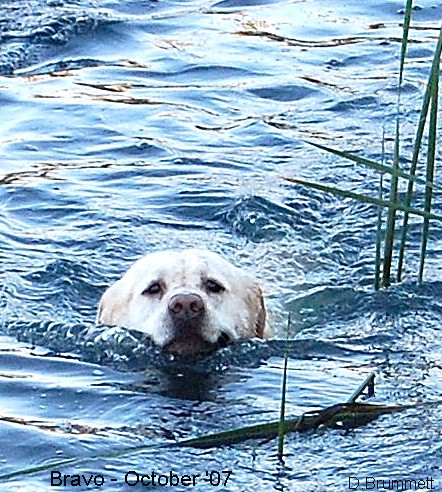 Bravo passed the WCI (AKC Junior Hunt level) under Judge Chris Cornelius at the HLRCInc Hunt Test at Black Rock Farms on 9/8.
2000
On 10/7, Bravo passed the LRC Inc. WC (Sponsored by the Hoosier Labrador Retriever Club) test at Black Rock Farms in Kirklin, IN under Judge: Chris Cornelius of Backwater Retriever Club. He was exposed to a duck and pigeon wings at 8 weeks old. At 12 weeks old he retrieved several mallard ducks and pigeons in and out of water.
Obedience:
Bravo at 1 year old: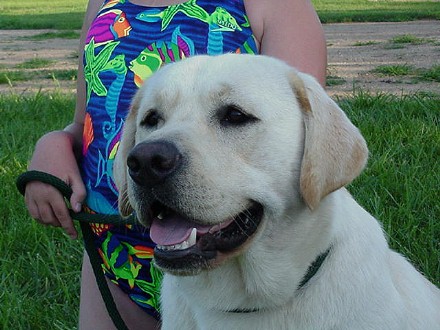 On 3/14, Bravo successfully completed a 10 week "Super Novice I - Good Novice Obedience Training given by Rich Strong at the Joann Peavler's Indy K-9 Kollege, BeechGrove, IN.
On 1/7, Bravo successfully completed an 8 week training course on basic obedience training and was given a certificate of graduation Diploma of Dog Obedience Training at First Friends K-9 Training Services, 12401 Reynolds Drive, Fishers, IN.
On 7/29 Bravo performed community service by entertaining the Indianapolis chapter of the YMCA kids by fetching and kissing all the kids faces.
On 6/21 Bravo passed the CGC test given by Becky Davis. Bravo is the 7th Black Rock Lab to become a Canine Good Citizen.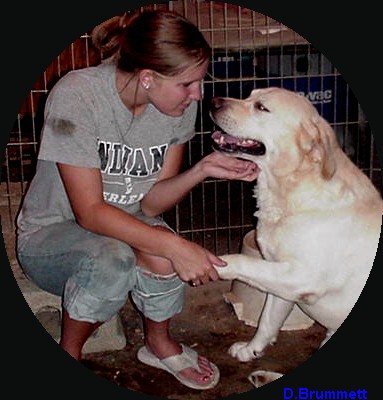 Christy and Bravo. He is a ladies man!
---
More photos: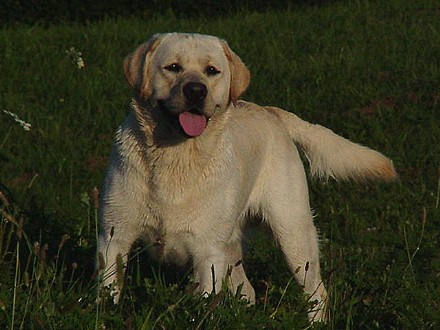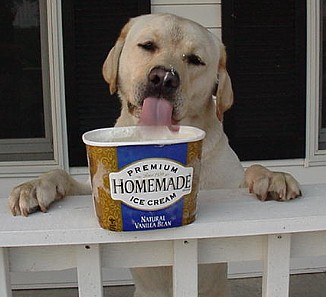 Bravo's way to cool off: Bravoinpond
Movie of Bravo at 13 months old: Bravoinmotion chasing our Geese on the pond.
HLRCInc WC test - October 2000: bravowatermark
Bravo with his favorite toy at 10 weeks: Bravotoy
Bravo at 9 weeks old: LindaBravo
---
Home: blackrocklabs
Updated on 4/4/10 at 9:30 p.m.